Take Advantage of This Month's Current Offers
Ford Blue Advantage: Confidence at Every Turn
Experience the benefits of Ford Blue Advantage! Each Ford Blue Advantage vehicle features a limited warranty, multi-point inspection, 24/7 roadside assistance, and FordPass™ Rewards Points.
We're Here For You
Transwest Ford always puts customers first!
Don't take our word for it: Read our reviews and see what everyone is saying.
I contacted the dealership via their website and engaged in an online chat inquiring on a vehicle I was interested in. I received an immediate reply from Sunshine, whom was currently out of her office, but said she would set up a time for me to come see the vehicle and do a test drive. She said when I got to the dealership to ask for Court and he would take very good care of me! When I got there, the car was waiting out front and when I went in, I was promptly greeted by Court. After deciding that wasn't the car for me, he took me to look at a different car on the lot that he thought I might like. We took it for a test drive, Court explaining everything to me throughout the drive. I ended up purchasing the car after the test drive. Everyone there was very pleasant to work with and made the purchase process fun and stress free. After driving the car the next day, I was a little confused on some of the features. I contacted Court and he had me stop by after I got off of work and went over everything with me, till I understood how it all worked! Great service even after the sale! I would highly recommend Transwest Ford, LLC, if you are in the market for a new vehicle!
I have always had a great experience with Transwest group.
Court cook was a pleasure to work with.
Just bought a 2019 Ford F-150 from this dealership. Cannot recommend enough. My sales agent Court and his associates made the process seamless from start to finish. If you are looking for a professional, honest and upfront Ford dealership Transwest is for you!
Outstanding from beginning with an order draft that they suggested spot on changes to. To the final delivery with comprehensive explanations of pretty much everything the whole experience could not have been better. Thanks Al and Sunshine.
Transwest was very pleasant to deal with. Transaction was fun and easy. Court Cook was very pleasing to work with. He stayed in contact with me during the while process and has even made sure everything is still going well with the truck. Highly recommend contacting Court and the Transwest team.
I had an appointment to have Transwest replace a pinion / differential seal on my F-150 on a Wednesday. Due to a storm coming in on that Wednesday I took my vehicle to Transwest on Monday with the hope that they would be able to make the repair early and that I would have my vehicle back prior to the storm arriving. I did not expect this, but I was hoping. Tuesday morning I received a call from Transwest notifying me that my vehicle was repaired and ready for me to pick up. I am grateful that they were able to get the repair made and that I had my vehicle back prior to the arrival of the storm...it made things much more convenient for me. Good job Transwest...thank you.
The fule pump was starting to fail. My truck was towed to the dealership. Parts had to be ordered, and truck was done within a matter of no time at all.
Excellent service getting our new Bronco.We tried in Colorado, but had better luck with Transwest. Court and Brian were awesome to work with. Definite recommend.
Court, Brian and Drew were very friendly. They answered all my questions. Court gave me a great tutorial on operating my new Bronco. Absolutely no pressure. Lucinda Janulewicz
Court Cook and Brian Christeleit at the Transwest Ford place in Scottsbluff, Nebraska were very thorough and made our purchase very enjoyable.
Great experience with salesman Court Cook! He helped me purchase a vehicle I fell in love with, and made the process flawless and very enjoyable. Definitely recommend this dealership and salesman! Thanks guys!
We have made Multiple purchases from Transwest. Not a better dealership anywhere. The buying process could not be any easier. Everything felt fully transparent and virtually no pressure.
Have done business with Al and crew for several years and won't go anywhere else. My wife and I recently ordered a new vehicle as a result of past experiences.
Bought used Subaru in June coming back for schedule maintenance...great service and great people...definitely coming back for next purchase and service....
Court really know the product, every detail of the vehicle was explained to me. Court is courteous, and knowledgeable.
We have purchased our last two vehicles with Court Cook. We enjoy his knowledge and his willingness to help before, during and after the sale. We have confidence in Court and recommend him if you are interested in purchasing a different vehicle. Thank you Court
A big shout out to Court Cook for helping me find a new vehicle after my previous one was totaled from hitting a deer. He was so kind and truly wanted to help me find something that worked for me. I appreciate all he did to help!
Everything went so smoothly.
I have zero complaints. They always kept me updated on everything from start to finish. And provided me with great service and at the upmost professionalism. Very pleased and great full.
Take excellent care of me
These guys are AMAZING! Made the entire process of buying a car easy and stress free. Love them. Their service department is amazing also. Had running boards out on my new car and they did it super fast and had me out and driving in not time at all. Highly recommend TransWest!
I was looking for a new car, so we checked out Transwest Ford. We checked out a lot of places for SUV type cars. Dealers trying to deal and not very well. Jim Watson at Transwest Ford was not at out throat or even trying to game us, just facts on how to make the Bronco(c) we wanted with all the choices the Bronco had. There was no trying to make us go up on prices. We had to get the Bronco Badlands because it had the power that we like and need. It's easy, so far, to get used to. If I have any questions, I can just tun over and ask my question. The features that we liked, we kept. If not, we stopped them, all with a tap of a key on the screen. I didn't give Buying Process a 5 because it did take some time to get it in and I haven't needed to have anything repaired, and I pray that's a long way off. . . We got what we wanted, and at a decent price. Prices much lower than Cheyenne, WY, or Loveland, CO.
In August we were coming home to Denver from Sturgis when our Dodge threw a DEF code, north of Lusk. We had 150 miles before it went into limp mode. I frantically called every diesel mechanic I could between there and Denver… no one would see us or they didn't have the equipment to service the DEF. As a last, fingers crossed, effort I called transwest and asked if they, a Ford dealer, would take pity on our Dodge… they said yes! We added some DEF fluid right then and we headed their way. We were an hour out. The service manager promised to stay until we got there! He came out to the truck and cleared the code. He said it's a known diesel problem that the float can get stuck. A few minutes of his time, and nice chat, and we were back on the road and made it home!!! So grateful for their team. Extremely friendly. Would recommend anyone needing service check them out. We will definitely use them anytime we are in need in the area!! Thanks again Transwest!
I make the trip transwest over getting my vehicle serviced in Nebraska. I love the service and the employees.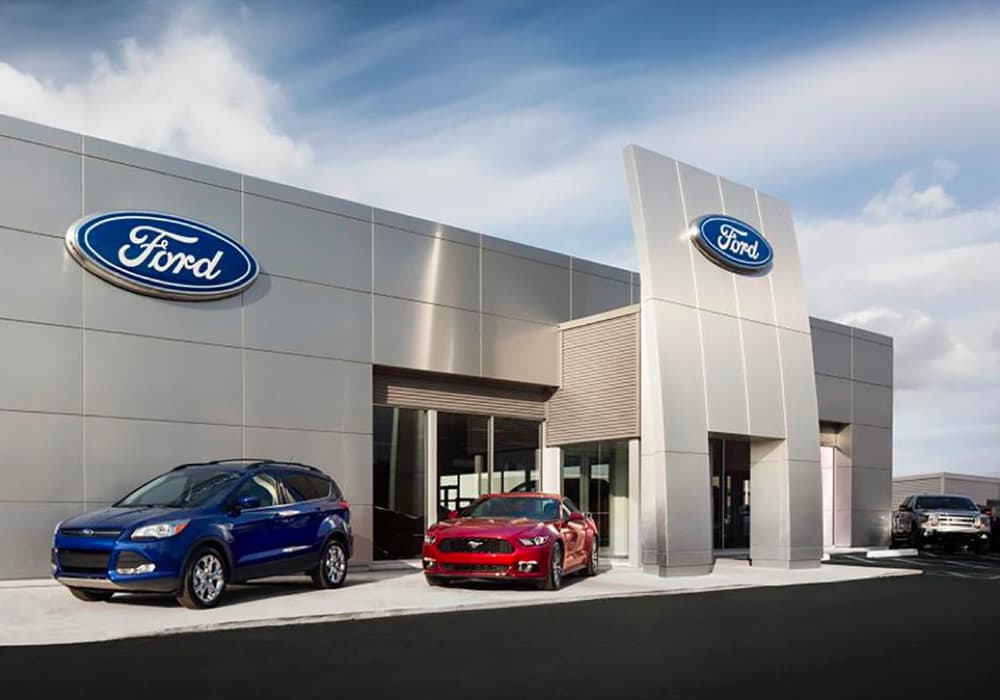 Get Directions To Our Dealership
Welcome to Transwest Ford
Premier Ford Dealer in Scottsbluff
Our mission at Transwest Ford is to be the automotive home of drivers near Scottsbluff, NE. We are a Scottsbluff new car dealer and a used car dealer, as we have a vast selection of Ford vehicles and ones from other reliable brands! We also provide exceptional car care and customer service with a smile, so you can enjoy the 5-star experience that you deserve. Learn more about our selection below, and if you have any questions about working with our Scottsbluff Ford dealer, feel free to talk to us!
Scottsbluff New Car Dealer
When you browse our inventory online or step into our dealership, you will see that we are a Scottsbluff new car dealer with plenty of the latest Ford models. You will be able to get the hottest models the same day you shop for one or even reserve an upcoming model and be one of the first to drive that new model on the Fort Laramie roads! If we don't have a particular trim in stock, you can always place a custom order with us and we will get you the Ford you want down to the exact color and the exact optional packages. You can access any of the newest models at your fingertips when you work with Transwest Ford!
Scottsbluff Used Car Dealer
Transwest Scottsbluff Ford is more than just a new car dealer, we are also a Scottsbluff used car dealer. Whether you want to try out a Ford model at a lower price or you need an affordable, reliable car, we have many pre-owned vehicles available. When you work with our Scottsbluff used car dealer, you can also turn to our finance experts to find the best price and financing rates in the area. Looking to trade in your car? Find your Trade-In Value in just two clicks.
Visit the Leading Nebraska Ford Dealer Today!
Are you ready to have an enjoyable time at our Scottsbluff Ford dealer? Reach out to us online or stop by in person! We are excited to be your go-to Wyoming Ford dealer.
Contact Us